…during a time of extreme emotional stress your course popped into my inbox and has been a game changer.

- Sarah Pike
The Details
Congratulations, you're in the right place, we're here to help you slow down immediately.
Delve into plant magic, unearth skills, and develop tools for keeping calm and nervous system nourishment
Preparatory work – start as soon as you sign up

Walk through 7 step 

7 herbs

7 musical guided mediations

7 self-care tasks with beautiful PDF downloads

Films

Audios  

Interactive webinar –  Q&A session

Access is granted for a full 21 days
Sign up to be notified about this course
Sign up to be notified about this course
Sign up now to be notified about our upcoming courses
Daily Themed Meditation Podcast
Daily Video with plant identification, folklore and specific information
Daily Plant Guide – herbs, tasks, recipes and tools
Exclusive end of course live webinar where we will work to address and answer your specific questions
Personalised Seed SistAs e-Certificate of Attendance
In-advance Online Preparatory Training Before the Main Course Starts
Plant Identification Mini Challenge
Watch and learn wherever you go
Do you want to know how to
cope with stress?

calm anxiety fast?

soothe your nerves?

slow down immediately

reduce stress hormones

learn about nutrition to support anxiety?
Do you want to
Stop feeling anxious

Manage anxiety and stress

Help someone else with anxiety
Do you want to learn
coping strategies
Know about self-care strategies

Creative ways to deal with stresses

How to overcome anger and irritability

Relaxation techniques?
Sign up to be notified about this course
Sign up to be notified about this course
Sign up now to be notified about our upcoming courses
What people have said about our courses
Vicky Walker
As a family, we've used the course as a way to connect with each other and with emotion and with ways of addressing anxiety and stress, and finding tools to work with the herbs to address those.

It's a much more real way of connecting with the true power of the herbs that is completely experiential as opposed to just learned from books.
Judith Wester
Over the years I've been using some of their marvellous products. What a wonderful course it was. The meditations on the plants themselves were fantastic.

It was perfect for the relief of stress and anxiety.

I highly recommended it
"Things I learned and will take away: The importance of a daily check in with the outside world and to recognise that plants exist in the present moment, even without being able to identify them. I'm coming to this as fairly new, with my main experience of herbs being a pot of basil/parsley/coriander bought in a supermarket. For the first time in lockdown I've grown them from seeds this year. I will be growing them forever more…"
"The combined course content of herbology, mythology and the focus on individual plants has fuelled my curiosity. I am starting look at individual plants with new eyes and it will continue to be a learning experience."
"I intend to continue the daily practise of being outside and learning about the landscapes and plants around me. Thank you so much for enabling me to continue this journey."
"The Pathway to Peace course was a really fantastic opportunity for me to engage with nature…I was able to carve out some much needed time to do that in a very busy life."
"It was really well done, super accessible, easy to use, really clear, and I really enjoyed the mix of visual and audio aspects as well as text, lots of different ways to learn incorporated."
"I fully recommend doing this course with The Seed Sistas. It was so enjoyable and I learned lots about herbs and the whole variety of uses they have. It's inspired me to grow more herbs in my garden and to learn more."
"And now I'm using peppermint tea from my garden. It was there and I'd never used it before! I'm going to go on using plants more and take the time to appreciate the beauty of nature."
"I just wanted to thank you for putting together such a beautiful course which has made such a positive impact on me and has also resonated strongly. I have been a gardener for over 15 years, a florist for 10 but just really started connecting with herbs and plants for medicine last year. It has been a complete revelation."
"Your 7 days pathway to peace course appealed because I wanted to find out more about herbs that help with anxiety and stress for both myself and my husband but also as a way of connecting in with the plants."
"I have just qualified as a Reiki practitioner and so the idea of plant energy and the fact that they talk to us and appear when we need them makes massive sense. The course was everything I had hoped for and more, I absolutely adored the meditations and I love the hand outs."
"I have really enjoyed connecting with the herbs in a different but more intuitive way and it has changed the way I see them. I do have your book but must confess I have only dipped in and out of it so far so I am going to work through it in a similar way to how you have set the course up. You have also inspired me to increase my herb growing space in my garden, so now I think the whole garden will be herbs of some kind!"
"I really feel that the tools you have gifted to me over the last week will provide further support."
"The altar was something I had toyed with creating before but I felt more confident in doing so with your guidance."
"So what I am trying to say in a convoluted manner is that during a time of extreme emotional stress your course popped into my inbox and has been a game changer. I am hoping to do your apprenticeship next year so I will see you again then with any luck."
Peace Bundle Optional Extra for the Pathway to Peace
This is your chance to purchase an adjunct, to the 7 day course, a bunch of our lovely remedies. By opting for this package, you will be physically supporting and nourishing your whole system whilst exploring tools and herbs that can help in a variety of ways.
You can take these herbs for the week-long duration of the course.
Find out more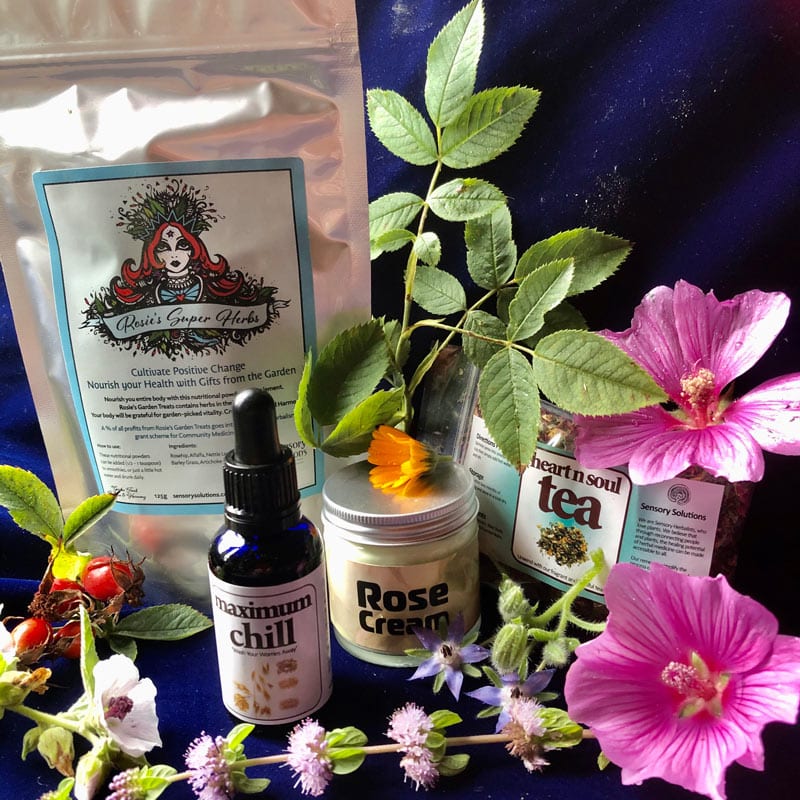 FAQ
What time will the sessions be?
You work through each day's sessions at your own convenience, the self-care tasks may need a little forwards planning to create time and space to complete them.
How much time is needed for daily commitment?
Daily you will get an audio, video and plant guide – that can take around 30 mins to work through. The meditations are around 10-20 mins each. The thing that takes the most time is the daily self care tasks – these range from taking a bath to drawing a plant so in essence it is about the amount of time you gift yourself. Most people spent 1.5-2hrs daily on the course. We do hope that you can make the time to fit the course around your work to invest in yourself and your plant journey.
Do I have to attend each online class at a certain time, or will I be able to pick up the course at my own personal time?
The course is drip fed over 7 days into your inbox but you are free to choose when you complete them. You complete each day before moving onto the next bit you can do this at your own leisure.
I will not be able to do these dates, what would you suggest instead?
The content is available for a full 21 days from the start date and a years extension is available for an additional cost after that. You can then revisit the content as much as you like including the filmed webinar.
I am going to be away for a few days in the middle of the course what shall I do?
Either take a device with you an carry on your lessons or press pause on the course and pick it up when you get back. There is 21 days in total from the start date that you will have access to the content.
Will the webinar be recorded?
The live webinar will be recorded and added to your course area to re-watch or catch-up with afterwards.
Can I access the live webinar if I haven't completed the course?
Yes, It is not essential to have completed the course in its entirety before the webinar. Look out for the emails to register for the webinar. The webinar is several days after the delivery of day 7 into your inbox so there is a little space to catch up with missed sessions before it starts if you would like to do that.
At the moment I'm housebound, do I have to go outside to find certain herbs in the wild?
On day 4, a small part of the course is to go out and identify local plants. However, this is not essential to get benefit form the course and you could simply look at a herb guide and become a little more familiar with local plants that way.
Will there be further costs incurred during the course, if so, what would they be?
In terms of additional costs, there are optional self-care tasks and for some of these there is the recommendation of purchasing additional items such as lavender essential oil, and rose cream or rose oil). Again, these are not essential to to benefit from the course.