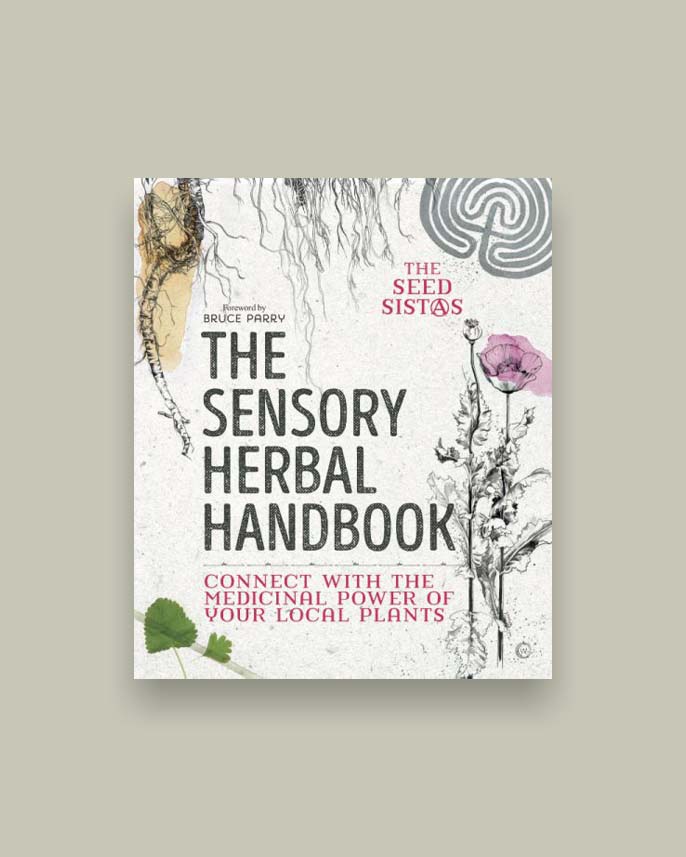 The Sensory Herbal Handbook – Paperback
A unique mix of knowledge and wisdom, respect and irreverence, this book contains a wealth of wisdom and will be a great companion to us all in our tentative explorations into these otherly realms…this book will guide us on this important journey of reconnection.
ABOUT THIS WORK OF LOVE, OUR BOOK
With the Seed Sistas Sensory Herbal Handbook, which has been called 'a wonderfully powerful and deeply connecting book' by renowned author Glennie Kindred – we find tools to empower us, to give us a framework to walk through a seasonal year and bring herbal medicine back where it belongs – in our own hands.
This is an inspiring guide to your own health and wellbeing, to plants and their medicine, to unleash your own creativity, through the unique voices of the Seed Sistas. All profits from the sale of this book go back into the Social Enterprise Sensory Solutions Herbal Evolution, Herbal Education & the proliferation of Community Medicine Gardens
The Seed Sistas have distilled 20 years of clinical experience as medical herbalists and their real life experience as well as study of systems of medicine, into an easy to understand guide for anyone who has heard the whispers of the wild and is compelled to learn more.
You are taken on a voyage into the body systems and given an understanding of why disease arises in certain parts of the body, according to your emotional and spiritual state as well as purely the physical. You are offered insights into which herbs you can use, how to harvest and prepare them and how to give thanks to the natural world as you enter into relationship with the wild spaces around you. It offers a system of wellbeing that combines traditional herbal knowledge with an understanding of how the elements (water, fire, air, earth and spirit) and the ever-changing seasons interact with the human body. Their approach blends science, medicine, creativity, ritual, magic and a ton of fun into practical, easy-to-use tools that guide readers in developing their own relationship with plants.
From the beginner to the experience herbalist, this book will offer guidance and food for thought, with beautiful drawings, artwork, poetry and creative writing interspersed with insight and knowledge, you can embrace a life of gratitude for the gifts that nature has to offer.
At the book's core is a journey through the year, exploring the key element for each season and focusing in detail on three plants harvested at that time of year: spring features leaf medicine from plantain, cleavers and rosemary; summer features flower medicine from daisy, yarrow and heather; autumn features seed medicine from rose, fennel and elder; winter features root medicine from dandelion, valerian and horseradish. Each chapter contains a wealth of recipes and ideas for how to use the herbs both in the medicine cabinet and on the dinner table.
THE COMMUNITY GARDEN
All proceeds from the book go back into our social enterprise and to support the the aims of Sensory Solutions Herbal Evolution:
To educate people about the harvesting and utilisation of plant medicine thus spreading the radical roots of a whole new system of healing relevant to today. A system that empowers people to treat their minor ailments with abundantly growing herbs and a system that builds healthy communities by connecting people to their local plants, to each other, good health and our beautiful Earth.
We achieve these aims through our Medicine Garden Projects – a medicine garden in every community
The Earth pathways dairy awarded us their Seed Fund to support the creation of our teaching garden at Monkton Wyld Court, centre for sustainability. We planted over 50 medicinal plants and have regular volunteer work parties.
Poetry, art, science, medicine, wisdom, spirit;    one gets a healthy dose of it all as we wind our way through the seasons and a deeply sensible and sensory approach to the magical world of plants, an herbal classic….. a lovely masterpiece.
Rosemary Gladstar, Herbalist and Author
This wonderful, powerful and deeply connecting book helps us to remember we are part of this beautiful dance between our Earth's complex eco-system and a long history of humans and plants working together for healing.